UEFA Euro Cup 2020 Final: Italy vs England Betting Tips & Predictions
It is the final of the European Championship 2020 with England set to host Italy.
The game will be played at the Wembley Stadium, London, and will start at 8:00 pm local time (12:30 am IST) on Sunday, July 11.
Get Italy vs England betting tips, winner prediction, preview for the Euro 2020 right here at Bet India.
Italy vs England betting predictions
This is going to be an absolute thriller of a match featuring plenty of betting opportunities.
Both sides are coming on the toes of an incredible run and are looking the strongest they have been in quite some time. In other words, this is a clash of the European giants and possibly, a small teaser of what we can expect in the next year's World Cup.
Italy and England are evenly matched and on any other venue, the Azzurri would have started as the favourites. But this one is at Wembley where the fans have thrown their weight in supporting the Three Lions to bring it home.
Given this kind of home advantage, England make for the ideal bet here to win the UEFA Euro Cup 2020.
Bet
Odds
Site
Back England to Win the Trophy
1.84
Casumo
Harry Kane to be anytime goalscorer
2.50
Betway
Over 2.5 Goals in the Match
2.25
10CRIC
HOT BET! Correct Score: England 2-1
10.92
10CRIC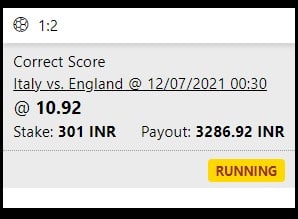 Want daily updates for all big games sent straight to your mobile? Subscribe to Bet India's Telegram Channel now!
England Recent Form
England are on the verge of making history as they find themselves just one win away from winning their first big international trophy in 55 years. Their last major title was the 1966 World Cup – which, coincidentally, was won right here at Wembley in front of some 96,000 fans.
Gareth Southgate has done a remarkable job of helping England establish themselves as a formidable football side. This is their second consecutive deep run in a big tournament following the semifinal feat in the 2018 FIFA World Cup in Russia.
Between then and now, England have lost just five matches on the whole with their last defeat coming back in November 2020.
In the Euro 2020 so far, Harry Kane has captained the side to top their Group D table comprising Croatia, Scotland, and the Czech Republic. Following a rather slow start (two 1-0 wins and a goalless draw), they faced their first real test against mighty Germany.
Playing that match at home, the hosts stunned the 2014 world champions by 2-0 with Kane and Raheem Sterling scoring the winning goals. In the quarterfinal in Rome, they truly turned up the heat by beating Ukraine 4-0 in a resounding show of dominance and class.
In the semis, England returned to Wembley to face a determined and inspired Denmark, who had against all odds made it this far. Despite starting on the backfoot, England managed to win 2-1 in extra time, thanks to Kane's heroics.
Defensively, England have been truly phenomenal with only two goals conceded this entire year. Attacking wise, Kane has done well to find his form just at the right time while Sterling continues to prove his worth.
Lastly, the hosts have no real injury concerns to worry about, meaning Southgate has the whole squad available at his disposal.
Likely XI: Pickford; Walker, Stones, Maguire, Shaw; Rice, Phillips; Saka, Mount, Sterling; Kane
Italy Recent Form
If there is a team that is capable of giving England a run for their money, it is most definitely Italy.
Just like England, Roberto Mancini's men topped their Group A beating the likes of Turkey, Switzerland, and Wales without conceding a single goal. Then in the first knockout, Italy beat Austria 2-1 in extra time. In the quarterfinal, they met the World No. 1 Belgium and stunned them 2-1 to reach the final four.
The semifinal match against Spain was their toughest one yet of the year. The end score was 1-1 at the end of 120 minutes – their first such stalemate since October 2020. The game went to penalties where they survived 4-2 to reach the final of this year's Euro Cup.
The four-time World Cup winners have reached their first major final since the 2012 Euros – back then they fell to none other than Spain in the final.
Having failed to qualify for the last World Cup, Italy's resurgence to the international stage has truly been an astonishing one. Under Mancini, the boys have recorded their longest unbeaten streak yet – 33 matches unbeaten spread across multiple competitions.
The backline comprising Giorgio Chiellini and Leonardo Bonnucci – undoubtedly two of the best defenders on the continent – has been nothing short of sensational in helping Italy secure wins with clean sheets. In fact, up until the knockouts, Itay's defence had not conceded a single goal since October last year.
In the attack, Ciro Immobile and Lorenzo Insigne have done well to bring in the goals with the likes of Matteo Pessina and Nicolo Barella also doing their parts.
That said, Federico Chiesa is doubtful for this match having been forced off in the last match against the Spaniards.
Likely XI: Donnarumma, Di Lorenzo, Chiellini, Bonucci, Emerson; Barella, Jorginho, Verratti; Chiesa, Insigne, Immobile
Italy vs England Head-to-Head
The two teams have met 27 times in total. Italy lead England 11-8, with the remaining eight games ending in a draw.
Their last two matches were international friendlies which ended in draws.
However, if we are to look at their meetings in a major competition, Italy have come out on the top a majority of the time.
Case in point – in the 2014 World Cup in Brazil, Italy beat England 2-1 while in the 2012 Euros, they won 4-2 on penalties to send the Three Lions packing in the quarterfinal.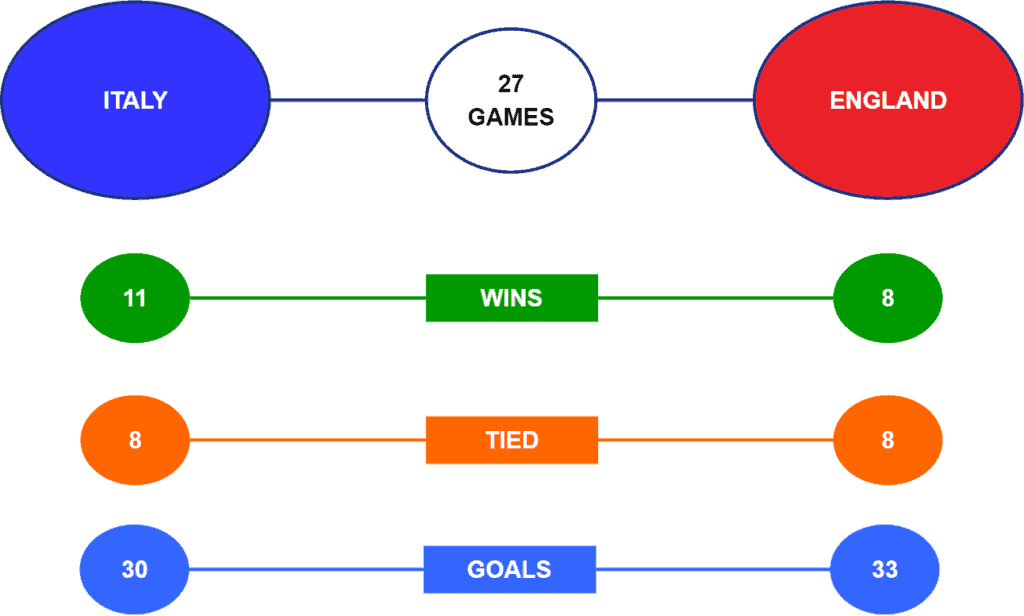 Italy vs England Match Facts
The Euro 2020 has seen more own goals (11) than all the previous editions combined (9)
Italy's last defeat came back in September 2018 against Portugal by 1-0
England have conceded just one goal in their last eight matches
Italy have conceded just three goals in their last 14 matches
Italy vs England Winner Prediction
Recommended Bet: Back England to win the cup @ 1.73 with Casumo
It has been an incredibly long wait for England to bring home a major silverware and by the looks of it, that wait is about to end soon.
Not only England's players are sailing high on confidence, but they are also playing on their home turf where they have been absolutely flawless this season. In fact, it is fair to say that if there is a venue where you do not want to play, it is at Wembley, especially when it is packed with some 60,000 spectators.
However, there will be nerves and Italy do have quite a bit of experience in their ranks to handle this kind of pressure and atmosphere. In fact, that's how they won the 2006 World Cup in Germany when they beat the Germans in the semifinal in Dortmund. This is not a team that is to be taken lightly.
However, we must remember that at this stage in a tournament, past statistics and metrics go out for a toss. It all comes down to how players handle themselves on the pitch and admittedly, England are looking mature enough to bring this one home. Italy have looked far more nervous in the knockouts than their English counterparts.
Harry Kane to be Anytime Goalscorer
Recommended Bet: Kane to be anytime goalscorer @ 2.50 with Betway
Four goals in the last three matches, including scoring the winner against Denmark. Fans could not have asked for a better time for the 27-year-old Kane to find his form. As the captain, the onus will be on him to lead the charge and open up the attack.
Given his momentum, he certainly makes for a safe goalscoring bet to back in this match.
Over 2.5 Goals in the Match
Recommended Bet: Back Over 2.5 Goals in the Match @ 2.62 with 10CRIC
Italy's defence has started leaking ever since they made it to the knockouts. Meanwhile, England have been resilient in the back having kept a litany of clean sheets in the matches leading up to this iconic final. However, that goal conceded against Denmark tells us to expect a similar situation against the Italians too.
We can most certainly expect goals from both sides – the total count of which may very well exceed 2.5.
The post UEFA Euro Cup 2020 Final: Italy vs England Betting Tips & Predictions appeared first on Bet India.